eCommerce in
Asia.
Asia accounted for around 60% of global online retail sales in 2020 and dominates the global eCommerce market. Yet despite eCommerce being an essential part of daily life in this region, many Australian and New Zealand businesses lack the tools they need for international transactions, and the payment platforms their customers prefer.
The aumake platform offers a solution to this problem, giving businesses access to their Asian audiences and the tools to transact.
Aumake offers an omnichannel solution for business merchants to Asian audiences, using the platforms these customers prefer best. This includes eCommerce via our website, mini-apps, live streaming, and social media options to suit individual country preferences.
Our omnichannel platform provides businesses with a centralised, low-risk, high-reward business model, connecting to fast-growing markets in Asia. This includes integrated planning, strategy, metrics, branding, distribution, and marketing tools, all in one convenient location.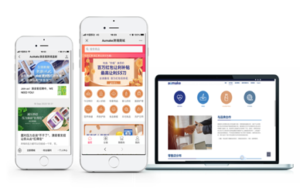 For further information regarding aumake's marketing services, please do not hesitate to contact our team.
Case example – aumake WeChat mini app
China is the world's largest eCommerce market, and WeChat mini-apps are one channel businesses can use to connect.
Aumake's WeChat mini-app, a function of our end-to-end solution for businesses, connects you with your Chinese audience and Chinese influencers. And it enables you to transact in the preferred method of your Chinese customers—WeChat Pay.
A recent survey conducted in China revealed that 41% of brands found that an eCommerce Mini Program on WeChat has helped to reduce online store operating costs.
The WeChat Mini Program is user-friendly, easy and intuitive to navigate, and has advanced features for eCommerce. It is also intrinsically integrated with WeChat's other features, such as the chatting feature, the Moments feature, and WeChat Pay. So it's easy for customers to pay for your product and share it with their friends.
WeChat eCommerce Mini Programs generate rich data from their customers and help businesses form a deeper understanding of their customer base.
Aumake's established team of influencers (our sales force of 30,000+) and Key Opinion Leaders connect to customers through the Mini Program. Among our sales force, the average number of WeChat friends is 3,000-5,000. If 100 influencers share the marketing material provided to them by aumake on WeChat Moments, your product will be advertised to 300,000-500,000 potential new customers. The specific influencers that market your brand will be selected to target the ideal consumer demographic represented in their contacts.
Visit our Sales Force and Live Streaming web pages for further information regarding aumake's sales methods.
Please do not hesitate to contact the aumake team for further information regarding aumake's eCommerce selling methods.
For further information regarding aumake's eCommerece services, please do not hesitate to contact our team.